I'm sure I am not alone in stating that we have been keeping busy, and will probably continue being busy through the remainder of the year, cramming as much fun in with family and friends as possible with as few roadtrips as possible. Those pesky gas prices..
Last week was no exception to the busyness. Two of our dear friends from college came all the way from Tennessee to see us for the day! Ok, really, they were in the state for Thanksgiving with family, but those are just details. We had a great time seeing them and just hanging out for a few hours and are so glad we could coordinate schedules for them to be able to visit. Lily loved the extra attention and playmates, even though she was confused on who was visiting. Apparently in her mind, our friend Tiffany looks similar to her Aunt Jess, and Tiff got called "Jess Tiff" the whole time she visited. Jesse also enjoyed talking computers, guns and who knows what else with Derek, and even got to go shoot some clays down in our field, which we are pretty sure our neighbors loved since it was the second day of deer season and they were out shooting shotguns. Oh well.
We headed to Zanesville for Thanksgiving with the Hildebrand clan on Thursday morning and got to Mom and Dad H's in time to heat up our portion of the meal we brought and sit down to a delicious lunch. Matt, Erin and my favorite niece, Kole, came down from MI as well, so we were able to enjoy some time as the entire family. Grandpa Brennan came over Saturday morning to visit with all of us before Jesse, the girls, dog and I came back to WV.
tea party with Great Grandpa Brennan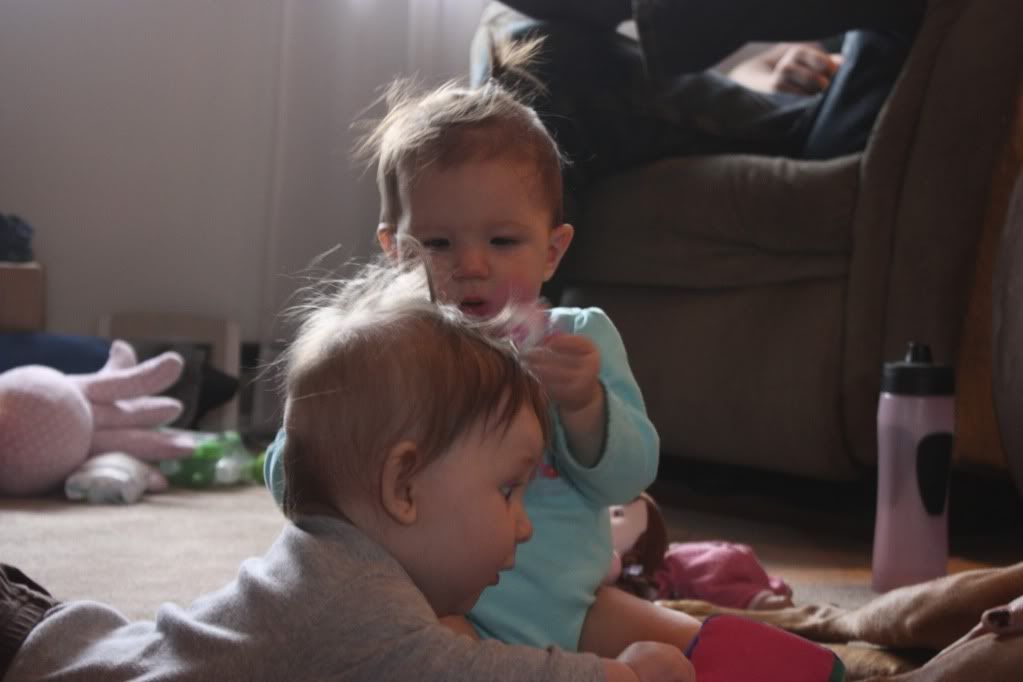 K and E playing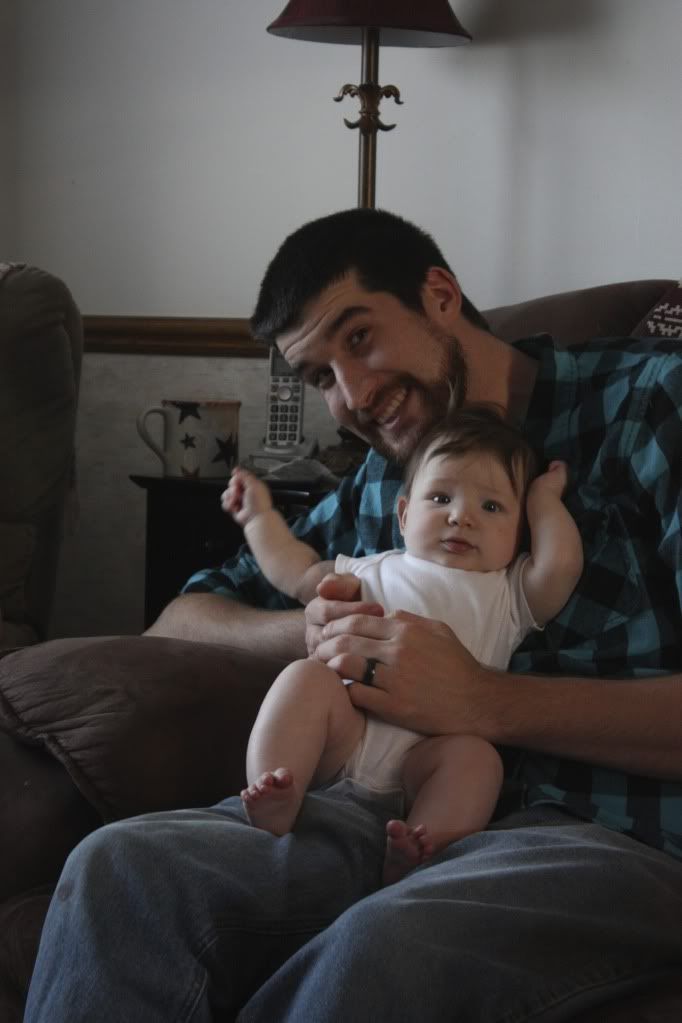 Trying to get 3 little girls, two of which are under the age of 1 to look at the camera is just as difficult as getting all 3 to be happy at the same time.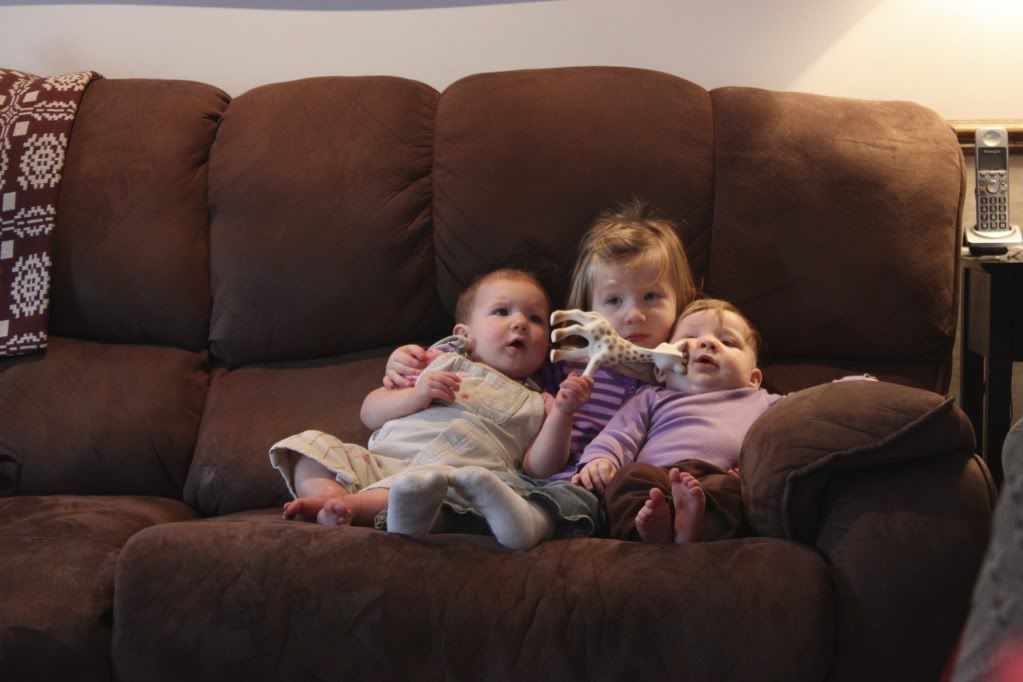 Kole punching Emma with her Sophie
then we thought we would add the daddy's to get smiles. this was a clear success.
And on top of all this fun, Emma is now 5 months old. Though it's not hands and knees coordinate yet, she is definitely on the move and crawling, not just relying on rolling all over the room to get where she wants to go. Since Emma is still getting up way too much (for my taste) in the night to eat, I have been trying to introduce some baby food to help fill her little tummy. Have I shared this already? Rice cereal was an absolute bust and led to her projectile vomiting both times we tried it. I have little interest in trying other cereals at this point, though I may still try oatmeal, but we had a few successful tastes of sweet potato today. I think her aversion is more of a texture than taste thing at this point, so I will keep trying a few bites here and there to get her accustomed to the texture and what her tongue is supposed to be doing to move the food down her throat.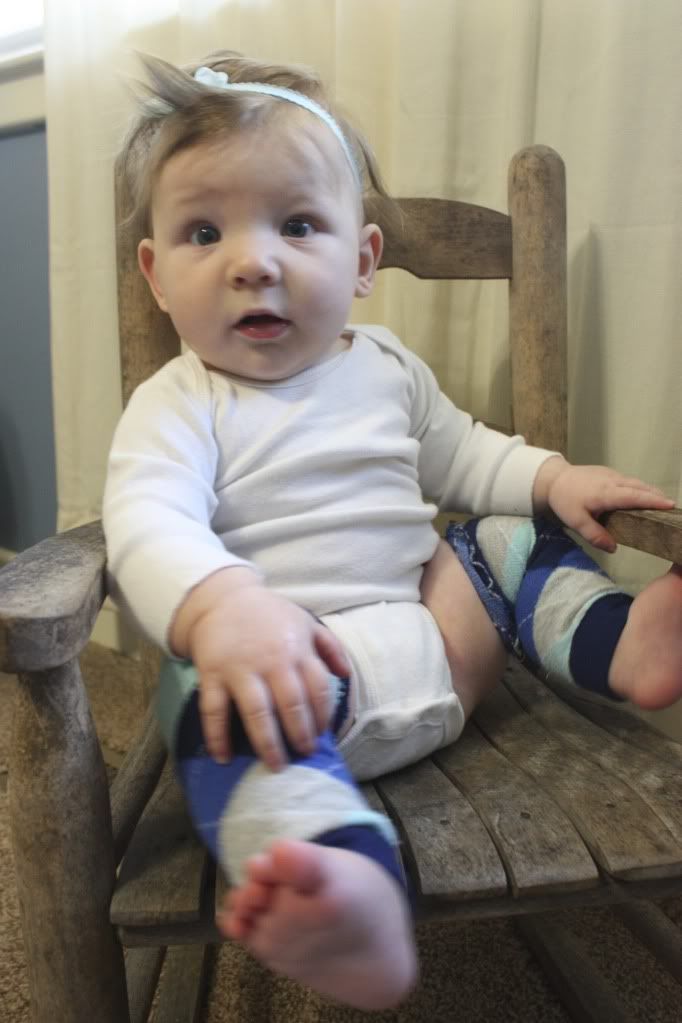 this guy is so patient. he has proven himself many times over in the past few months, including letting Lily, Emma, and Kole climb all over him this past weekend without flinching.
Lily is doing great. Her vocabulary continues to improve, as well as enunciating words and speaking in more complete sentences. She still refers to herself as "you" and likes to do things "by my yours self," and brings us tons of smiles and laughs with the silly things she says. She likes to count to 10, as well as "counting" the abc's-- which go something like A, B, C, Q, R, S, W, X, Y, Z! with the last being said with lots of gusto. When we drive places, Lily likes to point out the animals we see. This mainly includes cows, horses, goats and donkeys, but she occasionally will either ask or tell me she has seen a moose, giraffe or elephant in the field along with the cows. Every animal is declared with an accompanying sound the animal makes and a "[insert animal] taaaaaaaaaasty!" Which cracks us up every time.